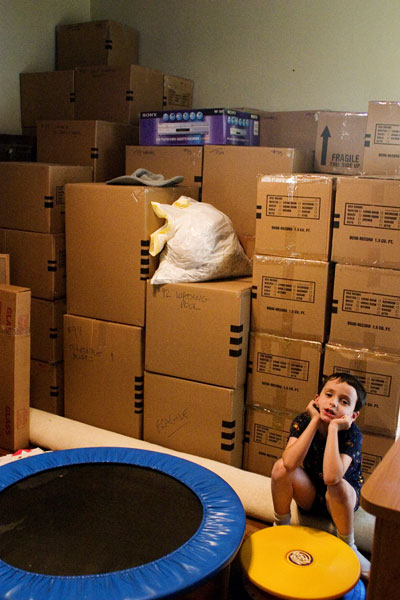 I haven't posted in so long because, for the last several weeks, we have been moving. I mean, there was an actual move date, but the whole process has been going on for a while. We are only getting just a little bit settled right now.
And let me tell you, it is all I can do some days to keep the panic and utter mania at bay.
The problem is, every other time we have moved I have been able to actually unpack. The last time we moved Luke was one year old, and he took a long afternoon nap, during which time I would unpack as furiously as possible until I collapsed on the bed beside Luke for a quick snooze before he woke up. This sounds heavenly now. Almost up there with sleeping in, eating chocolate for breakfast, and having a pedicure while reading a book. Seriously.
Because now, this is what a day is like: wake up at 5 am, read books to the kids for two hours so they won't tear up the tenuous order we have begun to establish in the house, feed them breakfast, wake Craig so he can work, take the kids out of the house so they won't tear up the house and/or bug power-tool-wielding Craig, come home, feed them lunch, try to get Henry down for a nap, make some dinner and do some dishes and laundry. Okay, you get the picture. There is not a lot of unpacking going on, at least on my end.
This is all made much, much worse by Henry's recent development from Happy People Pleaser into Psycho Independent Man. This really deserves its own post, which it shall receive, but suffice it to say that our nights have been less than peaceful, what with Henry waking every few hours and lurching around the house screaming at the top of his lungs for whatever thing he has decided he needs at 2 am. I mean, nursies, cheese and books in those early, pre-dawn hours all sound reasonable to you, right?
I should have known that it would not be a peaceful move when we wound up leaving
our car
in Chicago on the day of the move. Who leaves their car behind? Oh, yes, and the vomiting on the airplane. Me. Vomiting for much of the flight while trying to take care of Luke and Henry by myself.
And now, the nightmares. A few nights ago I dreamed that we got in trouble for having such a long lawn, and so, since we don't have a lawnmower yet, Craig mowed it with a weed trimmer. The next night, I dreamed I was in Jenny's kitchen shredding chicken with my new suburban friends, who started lecturing me about Luke's behavior. We don't even really live in the suburbs, it is just that Worthington, Ohio is so very suburban compared to Chicago.
Every day I alternate, several dozen times, between giddy elation and despair. We are living in
a house
for goodness sake! With
a yard
! This in opposition to a small, two bedroom apartment in a dorm, where we were responsible for 78 undergraduates. There is parking at all of the stores, where
the workers are friendly
! There are lots of beautiful trees and parks. But, alternately, these parks are empty. Everyone must be hanging out in their own large backyards. And so, I stand out even more, the lone mom sitting on top of the playground equipment nursing my toddler, getting ready to return to my long-lawned house full of boxes.
But we are making progress.